Our plans for Willington Wetlands
We want to see a Wilder Willington!
We have so much planned for our Willington Wetlands and we can't wait for you all to come and visit!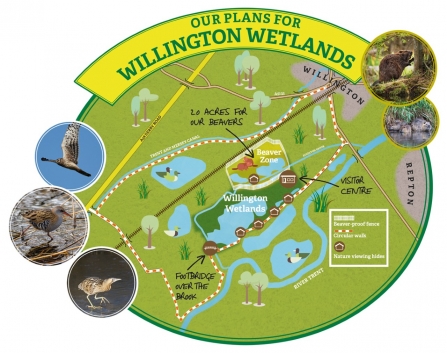 Willington is a special place, recovering from industrial scars

Until we acquired this site in 2005, gravel has been extracted here for decades, leaving a series of deep pits across its 114 acres.  We've gently helped nature and wildlife reclaim the landscape by keeping human impact low and by encouraging water to flow between the pits.  These are now the vital water reservoirs at the heart of this rich wetland.
The site is already teeming with life

Many rare bird species have become resident or feed here on their migration paths including: kingfisher, reed buntings, water rail, marsh harrier, Cetti's warbler, lapwing and bittern.
It is a key wildlife 'hub' for Derbyshire

The location and size of Willington make it a natural 'hub' for wildlife, providing links between neighbouring reserves.  Our efforts are focused on protecting and enriching this nature reserve to support Derbyshire's wildlife.
Beavers at Willington

In 2009, beavers were introduced to a site in Scotland, and Willington offers equally ideal conditions.  They are vegetarians, and the native plants offer our beavers all the food variety they need to thrive.  Beavers manager wetlands for their own benefit, and have a large positive impact on the ecology of the whole site.  For example, beaver dams would slow the flow of Egginton Brook, diverting it onto the meadows of the reserve, in turn helping keep winter flood water away from the village of Willington.
Future plans for Willington Wetlands

Our plans include a visitor centre, that will house a classroom space with views right across the reserve.  It will be designed and built with sustainability in mind.  This valuable facility will one day help make the wonders of Willington Wetland even more accessible.

We've planned a 5 mile circular walk, allowing visitors of all abilities to immerse themselves in the sites and sounds of the tranquil place.  To complete the walk we will build a footbridge over Egginton Brook.  Along the route we'll add to our existing nature watching hides, providing even more opportunity to get closer to the wildlife.
How can you help?
We are currently raising money to bring the beavers to Willington.  This will be the first time beavers will be back in Derbyshire for over 800 years!  To help show your support, you can donate to our appeal page - every little helps, and if that just isn't possible for you - sharing the appeal is great too!