It's Mental Health Awareness Week and we know the importance of getting outdoors in nature!
Mental Health Awareness Week runs from the 10th - 16th May, and this year the theme is nature.  We know home important getting outdoors in nature is for everyone, so we want to welcome you to our Wild Wellbeing page.
To celebrate the week, we are hosting a series of events, click below to find out more:
Exploring the 5 Ways to Wellbeing Webinar

Our Exploring the 5 Ways to Wellbeing Webinar with Derbyshire Mind webina will take place on Thursday May 13th 7pm-8.30pm.

 

What will we be talking about?

You may have heard of the 5 Ways to Wellbeing, but you haven't experienced them like this before! In celebration of Mental Health Awareness Week 2021 and this year's theme of 'nature' Derbyshire Wildlife Trust have teamed up with Derbyshire Mind to help you get wild about your wellbeing! 

Derbyshire Mind will be showing us how to use the 5 Ways to Wellbeing of keeping active, giving, connecting, learning and taking notice to support our wellbeing and Derbyshire Wildlife Trust will be adding a new twist to make them wild! 

So take a little time out just for you and join us on this journey to connect with the wonderful outdoors right on your doorstep. Come along, get wild, connect to nature and feed your wellbeing! 

This webinar will be hosted online using Zoom. You will be sent the joining details once your booking is complete.
Join the Wilder Wellbeing Facebook Group 

Jenny from Derbyshire Mind will be our Wilder Wellbeing group guest for the whole of Mental Health Awareness Week 2021 starting Monday 10th May. We'll be discussing all things Wild Wellbeing and learning valuable approaches to supporting our mental health. Now is the perfect time to join our Wilder Wellbeing Community so you don't miss out! Sign up to the Facebook group to get involved in the conversation.
Get Creative with Spiral Arts!

Jenny from Spiral Arts will be hosting a range of online art workshops via Zoom to help us celebrate Mental Health Awareness Week 2021 and this year's theme of 'Nature'. 

Join a session on Saturday 15th May at 11am or 3pm to learn to make your own '5 Ways to Wild Wellbeing' themed mobile to hang up at home as a reminder to weave a little time for your own wellbeing in to every day. Free craft packs will be provided. Beginners always welcome! 

Join a session on Sunday 16th May at 11am or 3pm to help us get even wilder! Once we have rewilded our own wellbeing, we will be looking to reimagine and rewild our local greenspaces with a focus on 'Rewilding Derby Arboretum'. See Derby Arboretum as you may never have seen it before. We will provide you with historical photographic postcards and ask you to get wild with a paintbrush as you splash the colour and add your own wild ideas to the images! There will be the option to submit your finished paintings to our 'Rewilding the Arboretum' exhibition later in the year. Free craft packs will be provided. Beginners always welcome! 

To book your place on any of the free zoom sessions please email spiral_arts@hotmail.co.uk with your address and say which session you would like to book on to. Jenny will then post your craft pack out to you and provide you with instructions to join your Zoom session. Please note bookings will close at midnight on Sunday 9th May so that craft packs can be sent out before the workshops.
Get to know your local wildlife
Nature is all around us, even in the middle of our cities!  So why not spend some time getting know the nature around you?  To get you started, we will be releasing weekly videos all about our Tree-mendous Trees!
Tremendous Trees
Want to get to know the trees around you?  Take a look at our series of videos to learn more!
Silver Birch Tree

Welcome to the first Tremendous Tree video, this video will help you to get to know Silver Birch. Covering how to identify it and wear to find as well as what life lessons can be learnt from the tree itself. Also with this video is the tree ID sheet that can be used to tick off when you have found your own Silver Birch tree.
Look after you
Lockdown is a big change from what we are used to experiencing with daily life.  Alongside heading out for your daily walk or time to exercise, there are many things you can do from the comfort of your own home to engage with nature and rest your mind.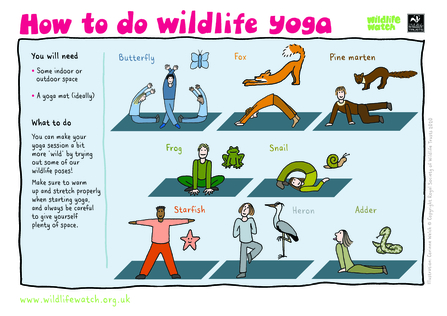 Get yourself a cuppa, and settle in to watch the wildlife filmed on our Willington Wetlands Nature Reserve.
Wellbeing Activities
Download our Wild Wellbeing Activity Pack!

Click the link below to download our Wild Wellbeing activity pack.  Full of brilliant activities to get active in nature and relax your mind and body.
BBC Soundscapes for Wellbeing
The BBC have launched their own Soundscapes mixer, giving you the opportunity to create the perfect relaxing track - just for you.
It is proven that time in nature can improve your mental health, so why not try creating your own mix from over 33,000 sounds from around the world, 17,000 of those from nature itself.  Once you've finished you can download the file to play when you need a little time to unwind.

Can you support us?
In these challenging times our work will still continue to defend wildlife in Derbyshire.