Be sure to stop when you are on the Monsal Trail to admire this beautiful reserve with a quarry and 200ft steep-sided gorge! Part of a string of nature reserves along the Monsal Trail in the Wye Valley.
Location
Know before you go
Entry fee
No
Parking information
Park at the Miller's Dale car park
Bicycle parking
Park your bikes at the entrance of the reserve and walk in
Walking trails
Paths open at all times.
The natural rock faces and quarries can be hazardous.
To avoid danger please keep to the paths.
Access
There is partial disabled access on this reserve, along the Monsal Trail from Miller's Dale Station as far as the abseiling bridge, which gives views over the reserve. There is no other wheeled access onto the reserve. Boardwalks accessed by steps and stepping stones make some paths unsuitable for those with limited mobility.
When to visit
Opening times
Open at all times
Best time to visit
Summer for orchids, wild flowers and plenty of insects
About the reserve
The majestic slopes and imposing crags of carboniferous limestone that form Chee Dale create a spectacular setting for a walk.
Allow plenty of time to explore this species-rich limestone dale. Among its many delights are the ash woodland, limestone grassland and an impressive 200ft deep gorge, all internationally important. The limestone grassland is bursting with colour all summer, from the cowslips and early purple orchids of May, through the delicately petalled rock rose and the spectacular bright blue spires of Jacob's Ladder, to grass of Parnassus and sheets of scabious in August.
The dale's ash woodlands have developed on the steep slopes and you will even notice some trees growing out of the cliff faces. Look for dark green yews and rock whitebeams with white undersides to their leaves. As you walk beside the river you may be lucky enough to see a dipper 'bobbing' on the rocks as it searches for food.
The woodland provides perfect perches for summer visitors like the spotted flycatcher to swoop for insects. Among other birds which nest here are blackcap, chiffchaff and willow warbler.
Environmental designation
Site of Special Scientific Interest (SSSI)
Nearby nature reserves
Download our nature reserve leaflets
Try our reserve walk...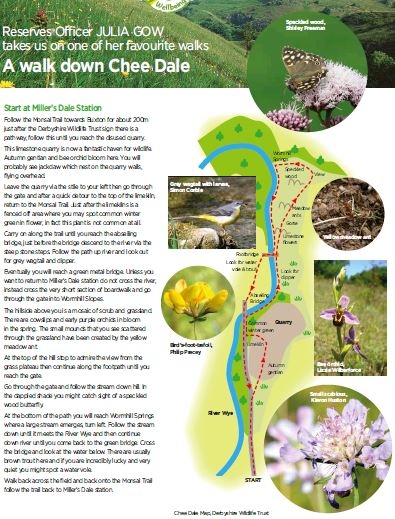 Play Wild rating
Wildlife may be sensitive at different times of the year.