One of few remaining examples of upland oakwood in the Peak District - it also has areas of heather moorland – a great place to look for lichens, woodland birds and mountain hares. Off the beaten track around Ladybower Reservoir.
Location
Know before you go
Entry fee
No
Parking information
Park at Severn Trent Water's public car park at Heatherdene. Park along Ladybower Reservoir or near Ladybower Inn S33 0AX
Grazing animals
No
Walking trails
Walk over the reservoir bridge and up to the Ladybower Inn - from here a public bridleway takes you diagonally upwards to the wall which forms the reserve boundary. Because of the difficult terrain, visitors are advised to stay on the bridleway, which offers plenty of opportunity to enjoy this interesting reserve
When to visit
Opening times
Open at all times
Best time to visit
Spring for birds and autumn for heather, autumn colour and fungi
About the reserve
Ladybower Wood is one of few remaining examples of upland oakwood in the Peak District.
Woodland such as this was once a familiar sight, covering most of the gritstone edges and moorlands of North Derbyshire. As well as oaks, there are a few rowans and silver birches.
On the woodland floor and on the gritstone boulders, there are many kinds of moss, lichen and liverwort, which enjoy the damp climate.
There are 44 species of lichen, making it one of the best areas in the Peak District to find them. The deciduous woodland provides little shelter for birds in the winter, but by late spring it is bursting with the songs of birds, including pied flycatchers, redstarts, wood warblers and tree pipits.
The elusive purple hairstreak butterfly may be seen around the upper branches of the oak trees in mid-summer. At the woodland edge, the trees give way to bracken and heather moorland, where you can spot red grouse and occasionally mountain hare.
Species
Habitat
Environmental designation
Site of Special Scientific Interest (SSSI)
Take a look at the latest sightings
Nearby nature reserves
Download our nature reserve leaflets
Check out the reserve map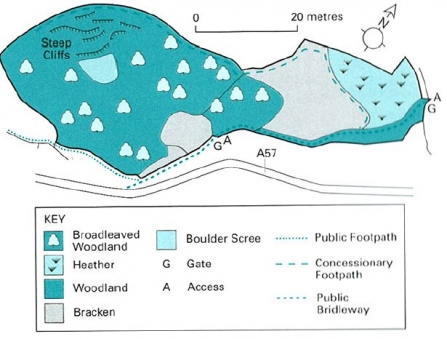 Play Wild rating
Some areas are very steep with hidden fissure so can be dangerous but along the bridleway and over the moor and small wooded area off the bridleway are fine outside ground nesting season.