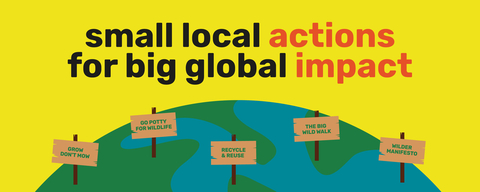 It has been estimated that healthy natural systems could provide one-third of the most cost effective so fighting climate change.
All across Derbyshire residents are taking action now for wildlife, creating local wild-spaces, potting plants, letting gardens grow wild, and campaigning for change. Each action may be small, but together these wild activists are aiming for a global impact.
The science shows that if just one person in every four takes action, this can be enough to change the minds and behaviour of the majority. Will you be that one? 
Act now and choose your action below 👇. 
This matters now because the UK is hosting COP26 (The 26th UN Climate Change Conference of the Parties) on the 1st – 12th November. The role of nature is one of the topics at the forefront of the conference. The decisions made here will be crucial. It is vital that global and local leaders take strong action to place nature's recovery at the heart of our response.
Help us build a Wilder Derbyshire and show us where you are acting for wildlife.
Plot your action on our map and tell us how you are acting for wildlife by choosing your pin from the key below.  Tell us your action and the area you live by filling in our form and your pin will instantly be dropped onto our map, helping us to show a Wilder Derbyshire for everyone!
Please enable javascript in your browser to see the map.
If you're already acting for nature or have plans to do something in the near future, we'd love to hear from you!