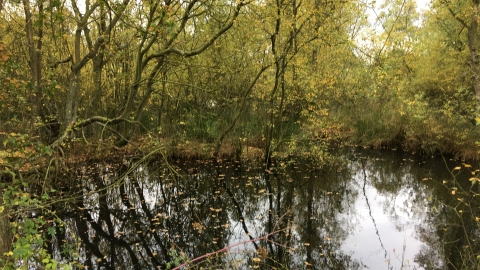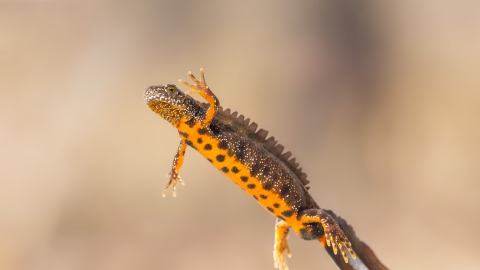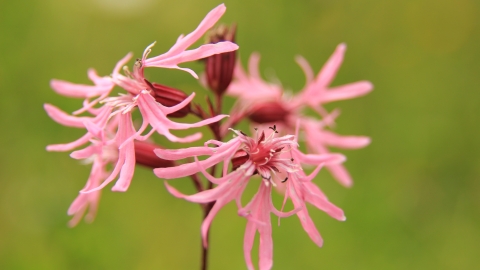 Flooded former clay pits providing refuge for amphibians and water violet.
Location
Know before you go
Entry fee
No
Parking information
Park alongside Brick Kiln Lane
Access
Please keep to the path through the reserve, but be aware that it is uneven in places and can be flooded in winter.
When to visit
Opening times
Open at all times
Best time to visit
Spring for amphibians - great crested newts, smooth newts, toads and frogs
About the reserve
These former clay pits, which once produced material for bricks, now form a series of shallow pools that provide refuge for a range of wildlife.
You enter the reserve through woodland, which consists mainly of oak and birch, where both broad buckler fern and narrow buckler fern can be found.
When you reach the ponds you will find reed mace, water plantain and water violet. This plant is now rare in Derbyshire and Morley has one of the best colonies in the county.
Away from the water's edge, there are a range of wetland habitats including willow carr and rush. Here you will also come across yellow archangel and ragged robin.
In early spring the reserve's ponds and ditches provide an ideal breeding ground for amphibians - great crested newts, smooth newts, toads and frogs.
With carp and tench in the water, fish-eating birds are occasional visitors - you may spot a kingfisher or a heron patiently waiting for a meal.
Habitat
Environmental designation
Site of Special Scientific Interest (SSSI)