Thornhill Carrs Reserve - rewilding at its best!
Our new Thornhill Carrs Reserve is a perfect example of nature at its best
This 30 hectare area of former farmland is a unique site, rare within The Peak District National Park for its unmanaged Wildness. It is currently home to a fantastic array of wild wood land, scrub, beautiful wild flower meadows.
Fantastic location
Visit Thornhill Carrs on foot or by bike and get up close with nature.  A bridleway runs through the reserves and offers ample opportunity to get active whilst engaging with the wild setting around you.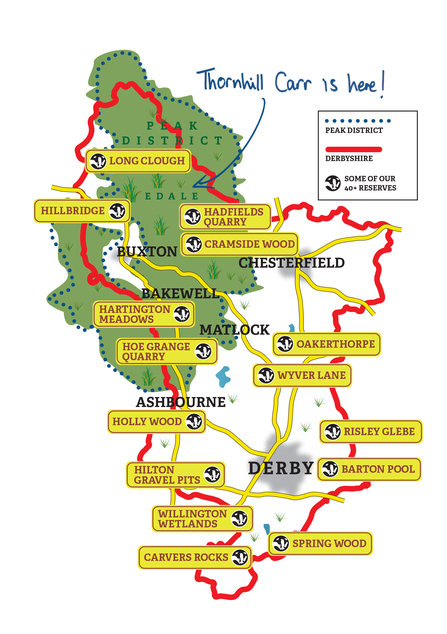 A haven for wildlife
As you wander through the reserve you will find a site teeming with wildlife. Summer migrant birds like Garden Warbler and Chiff Chaff sing along the woodland edges. A host of different butterfly species can be found making use of the diverse wildflower meadows including common species like red admiral and painted lady, and much rarer and harder to spot Dingy skipper and Small Heath. In the meadows during August you will see vast numbers of bees and hoverflies pollinating plants like knapweed and devils-bit scabious.  The site is also home to a family of badgers.