We are helping the people of Buxton understand nature is good for their health.
To do this we're working with Nestlé Waters for a fourth year on the Get Better With Nature programme. The initiative not only aims to promote understanding of the value of nature and the benefits it can have on our health and wellbeing, but also inspires local communities to participate in protecting nature and promoting biodiversity.
Building on the success of previous years there are many exciting new elements to the project which include a Family Forests Schools Programme, Wildlife Youth Ranger Initiative and many restoration and biodiversity projects - this year all with a theme of recycling and reusing plastics.
All activities have been designed to inspire and involve Buxton's local businesses, schools and charities to encourage people to make the most of interacting with nature. 
Here's what you can get involved in...
Community Day of Action

Medusa head built during a Community Day of Action, Derbyshire Wildlife Trust

Get Better with Nature Funtastic Community Day of Action!

The people of Buxton all came  together to promote biodiversity at a free, fun community event on Saturday 15th September.

The Community Day of Action is part of the Get Better with Nature project which promotes the understanding and the value of nature and the benefits it can have on our health and wellbeing.

Events took place in various locations around Buxton. Throughout the day there was Nature Tots for pre-school aged children. Forest School sessions for older children and an exciting storytelling, Magic Potion workshop. There was also a mini beast hunt in the meadow and a night bat walk for everyone - plus lots more. Some of the events were based at The Pavilion Gardens Café and others in various woodland around Buxton.

For the full event details Click here

 
Forest Schools

Forest School at Miller's Dale, Get Better With Nature project, Diane Gould 

Family Forest School

Come and have fun in the forest! Our free sessions at Miller's Dale are a great way to build confidence, make friends and have plenty of fun.

Forest School for Schools

We also run our local Forest School sessions for local Buxton Schools. Last year we worked with Burbage Primary School (a group of mixed year 1-6 children) and Fairfield Infants School (two groups from year 2). Each group attended three sessions and built bird boxes, planted trees, learnt about the water cycle and lots more! 

Forest school is amazing!
Nature Tots

Perfect for pre-schoolers, this nature-based playgroup at the Serpentine Community Farm in Buxton is full of fun! Free thanks to funding from Nestlé Waters, it's very popular so booking is essential!
Junior Rangers

Junior Rangers, Peak District National Park 

We are working with the Peak District National Park Authority to help run their Junior Ranger group that is based at Miller's Dale.

Junior Rangers are aged 11 – 18 and work alongside the National Park Rangers, The Learning and Discovery Team and our Health and Wellbeing Officer to help look after and learn about some of our reserves along the Wye Valley.

We spend time outdoors, carrying out practical conservation work, build new bird boxes, survey the wildlife already on site and so much more.

The Junior Ranger programme operates across Europe and is affiliated to the Europarcs Federation. 
Follow the 5 steps to wellbeing

Many organisations including the NHS and Mind are promoting the Five Steps to Mental Wellbeing. According to research, the five things which can really help you on your path to mental wellbeing are:

1. Keeping active: find something that works for you, which you enjoy and can build into your daily life. Walking is a wonderful way to get outdoors in the fresh air and get more active. Why not go for a walk round one of our reserves?

2. Connecting with people: spend time building relationships as these bolster us and our mental wellbeing. Friends, family, colleagues and neighbours. Or why not start a new activity and make some new friends? Come along to one of our volunteering events or days of action?

3. Keeping learning: there is nothing quite like learning a new skill or developing a new interest for boosting self-esteem and confidence. If nature is something that interests you then our local groups run regular talks and we also run adult education sessions.

4. Being more mindful: taking note of the now rather than worrying about the past or future has been shown to positively change how you approach life in general. Spending time outdoors in nature and taking time to stop and absorb what is around you is a wonderful way to achieve this.

5. Giving to others: helping other people also helps yourself. It makes us feel good about ourselves to help others. It doesn't matter if it is small acts to help someone or more time committed volunteering, it all counts.
Grapevine

We have been working with the charity to provide 10 sessions (so far!) to encourage volunteering for positive mental health.

Grapevine work to support local people suffering with mental illness and our sessions have taken place in their centre and also at local green spaces.  Those taking part have done some amazing conservation work in the area and it has built their confidence and self worth.  Accessing nature is a great aid when you are struggling with mental health.
Get Better With Nature is a collaborative partnership and this stage has benefited from yearly funding worth £27,000 from Nestlé Waters.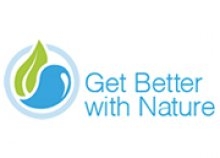 Like what we do? Get more involved...