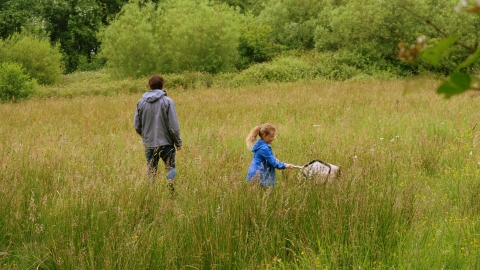 Minibeasts and pond dipping at Woodside - drop in event
Location:
Woodside Farm,
Pit Lane,
Derbyshire ,
DE75 7JL
Search for minibeast in the garden and pond critters in the Woodside garden pond.
Event details
About the event
We will use sweep nets and magnifying glasses to meet new wild creatures.  We will complete minibeast trails and hear stories about the miniature world hidden in our gardens and parks.  
Bring along a packed lunch to enjoy in the meadow.
Meeting point
Meet at the Woodside Farm barn which is next to Nutbrook Coffee Shop (DE7 6BQ)
Walking: You can walk to the farm following the DE7 6BQ postcode and follow  signs from the Café to the barn.
Parking: If you are driving please park at Mapperley Reservoir car park DE7 6BR and walk to the farm. Please be aware that it is a 30 minute walk. Walk down Shipley lane and then take a left turn down slack lane. In dry weather there is a marked short cut through the fields. Look out for green arrows to guide you to the barn.
Know before you go
Mobility
If you need to park closer to the farm because of mobility issues please contact us on 01773 881188.
Parking information
Please park at Derbyshire County Council's Mapperley Reservoir car park and then walk over to the farm which is next to the Nutbrook Coffee Shop.