Play Wild
Wondering where to start when it comes to getting your little ones outdoors? We can help!
We've been working with, Eastern Moors Partnership, Natural England, National Trust, Peak District National Park Authority, Staffordshire Wildlife Trust, Derby University and RSPB to reconnect families with their local green spaces and provide loads of ideas of how to get outside and what to do when you're there. This has all been made possible thanks to a £47,000 grant from The National Lottery Heritage Fund. 
We've also created a traffic light code to show you which of our reserves are great for children, we hold hundreds of events each year for your little ones and we've popped some great play ideas below for you - enjoy!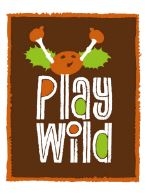 Play Wild traffic light code
We've created a traffic light system for our nature reserves to let you know where and when you can play wild. Look out for these signs:
Green logo: Go wild all year round!
Amber logo: Here wildlife may be more sensitive at different times of the year. Take care to find out where and when to play wild.
Red logo: Here wildlife is sensitive all year round. Remain on paths and take extra care.
Taking care of nature's home
Discover new worlds and creatures whilst taking care not to damage and disturb our home. Follow this code to keep these places wild for all of us.
Make sure an adult knows where you are heading on your wild adventures
Look touch and play only take pictures and memories away
Leave footprints or muddy splashes take litter home
Do keep your dog under control and clean up after them 
Leave gates as you find them
Ideas for playing wild
Stuck for ideas on what to do when you get to our sites? Look no further we have wild play ideas that will occupy the kids for 5 minutes or for 50 minutes…the choice is yours
Green sites

• Build a den for everyone to get in.
• Hunt for bugs everywhere!
• Make a mud face: take a lump of mud and squash it onto a tree then turn it into a face using leaves and sticks that have fallen to the ground.
• Tracking and trailing. Divide into two groups and lay tracks for each other to follow: will there be treasure at the end?
• Make a nest: can you build a nest using twigs, leaves, wool or feathers?

 
Amber sites

• Spot shapes in the trees:What shapes can you see? Are there dragons lurking? Are there snakes or giant beetles? When the sun shines can you see woodland fairies? 
• Leaf art: what can you make from the fallen leaves? 
• See who can build the tallest stick tower
• Build a fairy den
• Play hide and seek
Red sites

• See who can spot the most colours or sounds
• Look for bugs along the paths
• Imagine, what your journey would look like for a bug…or a bird- imagine the adventure!
• Tell stories using what you see around you
• Pick blackberries as you walk…make something tasty when you get home!
• Make a nature notebook and record what you see on your visit.
Check out our events
Discover other local reserves, green spaces and wild events near you!

All our lives are better when thy're a bit wild
Like what we do? Get more involved...