What is it?
On the 11th August we'll all be gathering at Carsington Water, Ashbourne for Hen Harrier Day and we really need to see you there too.
It's vital as many people as possible come along and stand up for hen harriers. They are facing extinction in England due to persecution and habitat loss and they don't have voice to stand up for themselves so you are it!
The family friendly event is open to everyone, and will feature guest speakers including Chris Packham, Mark Avery, and Ruth Tingay. Alongside this there will be storytelling, puppet making and much more. It starts at 12pm and finished at 5pm.
It's a chance to learn more about our hen harriers, discover the truth behind their disappearance and find out what you can do to help.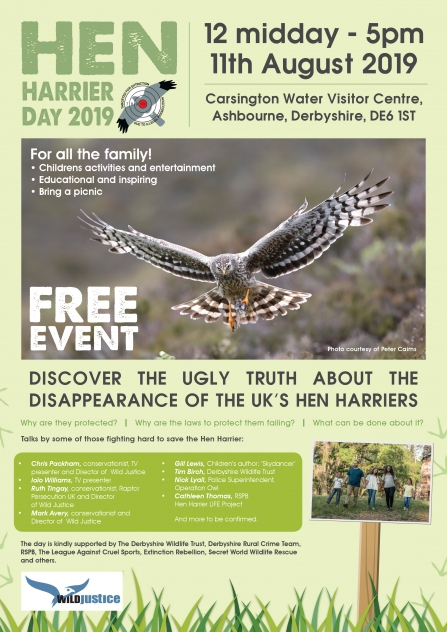 FAQs
Why are hen harriers special and important?

The hen harrier is an iconic species. The combination of its beauty, charisma and rarity make this a highly cherished and valued bird. Hen harriers are particularly associated with heather moorland where they breed in deep vegetation like tall heather, rushes or bracken. They hunt by quartering the moors – almost floating across the hillsides in the search for prey rather like day flying owls. Hen harriers prey on a range of small animals – mostly mammals like voles but also small birds and insects.
What is the problem?

For a few weeks in late May and June, hen harriers will predate on grouse chicks whilst the chicks are small, abundant and easy to hunt. This brings them into conflict with grouse moor managers who rely on plentiful supplies of grouse for shoots which will take place later in the summer and autumn. For the remainder of the year, red grouse are pretty much immune from predation by harriers because of their size. An additional issue for grouse shoots is that the presence of adult hen harriers flying over a moor on a shoot day can spook the grouse and make it difficult to shoot. The whole return for a year can depend on just a few days shooting and so this is a sensitive issue.

The grouse shooting industry is sensitive to the presence of hen harriers because of the view that predation by harriers could reduce the numbers of grouse dramatically and make shooting uneconomic. So the hen harrier finds itself in a predicament faced by so much of our wildlife, trying to find a foothold in the face of competing demands for habitat, space and land.
Why should we protect hen harriers?

In addition to the message that these are precious and iconic birds worthy of conservation in their own right, almost everyone has an interest in preventing the illegal persecution of hen harriers. It will help the birds to recover – and recreate the full range of species which should be present on English moorlands, it will help conservation organisations and the police who can divert their resources to other much-needed work and it will help responsible land managers who do not tolerate crimes against birds of prey on their land, whose reputation would no longer be damaged by those who choose to act outside the law.
What's your position on the alleged killing of hen harriers by grouse moor interests?

Derbyshire Wildlife Trust is totally opposed to the illegal persecution of all wildlife – including hen harriers. We have added our support to Hen Harrier Day to oppose the illegal persecution of one of the UK's rarest birds. We are also concerned about the illegal persecution of other upland birds of prey such as peregrine and goshawk.
The hen harrier is a symbol for all the species and ecosystems we wish to see thrive.

Derbyshire Wildlife Trust