We want to see a Wilder Derbyshire
We want to rewild more areas in Derbyshire - and with your support, we can make this happen

Living Landscapes Officer
What is rewilding?
When we leave nature undisturbed, 'rewilding' happens, and habitat development follows its own, wonderfully unpredictable course. As far as possible, we stay well back …no vehicles, no pollutants, no heavy boots on the ground. What we then see is remarkable: nature increasing the abundance of plant and animal communities to levels that are far higher and more complex than human management could achieve.
Thornhill Carr is a brillant example of rewildling. This 30 hectare area of former farmland is a unique site, rare within The Peak District National Park for its unmanaged Wildness. It is currently home to a fantastic array of wild wood land, scrub, beautiful wild flower meadows and a large family of badgers.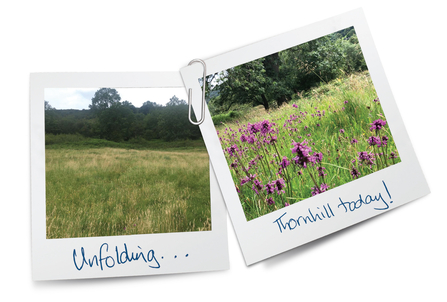 What does this look like?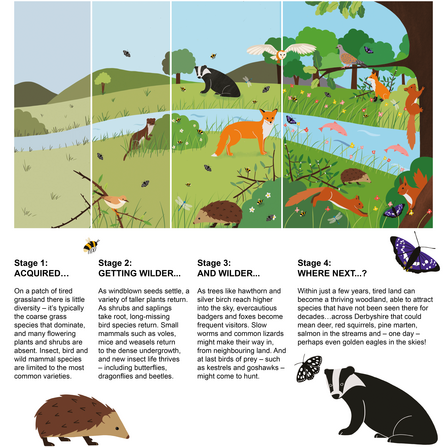 Why is this important?
Our living landscape was once a carpet of borderless green, but today many nature reserves and wild spaces are isolated – leaving wildlife unable to escape threats such as predators and food shortages. Our mission is to bridge those green gaps through natural rewilding, forming a network of safe havens across Derbyshire, restoring nature's freedom to find new territory, and helping all our wildlife to flourish.
Can I help create a Nature Recovery Network?
Any size patch of land that is 'species-friendly' will help Derbyshire's wildlife to thrive. Your garden – or even your windowbox – can easily become a valuable new wildlife connection, when you follow the simple advice in our 'How to Rewild your Garden' guide. A hundred wilder back gardens could add the equivalent of a football pitch to our Nature Recovery Network – and take us a big step closer to our goal!